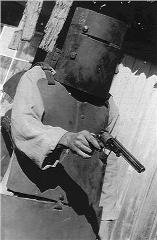 There are a myriad of things to see and do in the Wangaratta region of North East Victoria. The region is at the foothills of the Alpine High Country and boasts spectacular scenery affording a wide variety of activities for you to while away the hours. These are just a few of the activities you can indulge in:
Take in the beautiful vistas at many vantage points in the Warby Ranges or King Valley.
Play some golf at the Jubilee or Waldara Golf Courses - watch out for the wildlife!
Enjoy the food and wine of the region, visit some farmgates and meet the makers of some truly delicious specialty cheeses, mustards, wines, sour dough breads, olives, berries and honey as well as jams, pickles and preserves!
Explore the gold rush township of Eldorado and take a walk around the dredge - one of the largest of its type in the Southern Hemisphere, its massive hulk is truly amazing!
Visit cellar doors in King Valley and Glenrowan areas and sample some memorable wines, meet the characters of the region.
Take a drive out to Glenrowan and walk in the foot-steps of Ned Kelly and his gang.
Follow the heritage walk or the cemetery walk to find out more about Wangaratta's past.
Shop till you drop in Wangaratta's many boutique shops or many large franchise stores.
Bring your bike or hire one and explore the region from the saddle.
Feed the ducks in the sunken Merriwa Park or visit one of the many playgrounds in the town.
Find a shady spot near a river for a picnic and relax to the gentle sounds of water gently passing by.
Participate in one of our many festivals and events - check out this www.visitwangaratta.com.au for more information.
Enjoy a performance at the new Wangaratta Performing Arts Centre.
Discover the talents of local, regional and interstate artists at the Wangaratta Art Gallery.